Matters Of The Heart
"The Father Heart of God"
"experiencing the depth of God's love."
Key Text
Hebrews 4:15-16 (NLT)
14 So then, since we have a great High Priest who has entered heaven, Jesus the Son of God, let us hold firmly to what we believe. 15 This High Priest of ours understands our weaknesses, for he faced all of the same testings we do, yet he did not sin. 16 So let us come boldly to the throne of our gracious God. There we will receive his mercy, and we will find grace to help us when we need it most.
"Jesus came to introduce in reconciliation in place of alienation, healing in place of woundedness, and wholeness in place of brokenness"
"Broken"
"Our world is full of people with these invisible injuries, many resulting from childhood, but many also inflicted by the pressures and problems of modern life. God our Father desires to heal these hurts in order to ensure sweet and genuine fellowship with His children."
Isaiah 53:3
"...A man of sorrows acquainted with grief...He has borne our grief and carried our sorrows...by His stripes we are healed."
This healing is for both the guilt of our selfishness and the consequences of our selfishness-the scars and the wounds we bear in our personalities and emotions.
Isaiah 61
"...good tidings to the afflicted, and bind up the broken hearted, proclaim liberty to the captives and the opening of the prisons to those who are bound."
Psalm 34:18; Psalm 147:3
Good News to a broken world!
"Saul Syndrome"
"Samuel learned early on that there is only one acceptable response to the voice of God, simple childlike obedience."
Power can come from a position, tion, but authority comes from character, obedience, and God's anointing. A closer study of the life of Saul reveals a pattern-a terrible, unmistakable cycle of inferiority and emotional hurt.. .the "Saul Syndrome."
First Samuel 15:17
says that Saul was "little in his own eyes."
First Samuel 15 list the characteristics of Sauls toxic personality.
stubbornness and independence ("Rebellion is as the sin of divination, tion, and stubbornness is as iniquity and idolatry"), pride ("Saul came to Carmel, and behold, he set up a monument for himself"),fear self"),fear of man ("I have sinned because I feared the people and obeyed their voice"), and disobedience ("Why then did you not obey the voice of the LORD? To obey is better than sacrifice"). Simply illustrated, the Saul Syndrome looks like this:
___________________________________________________________________________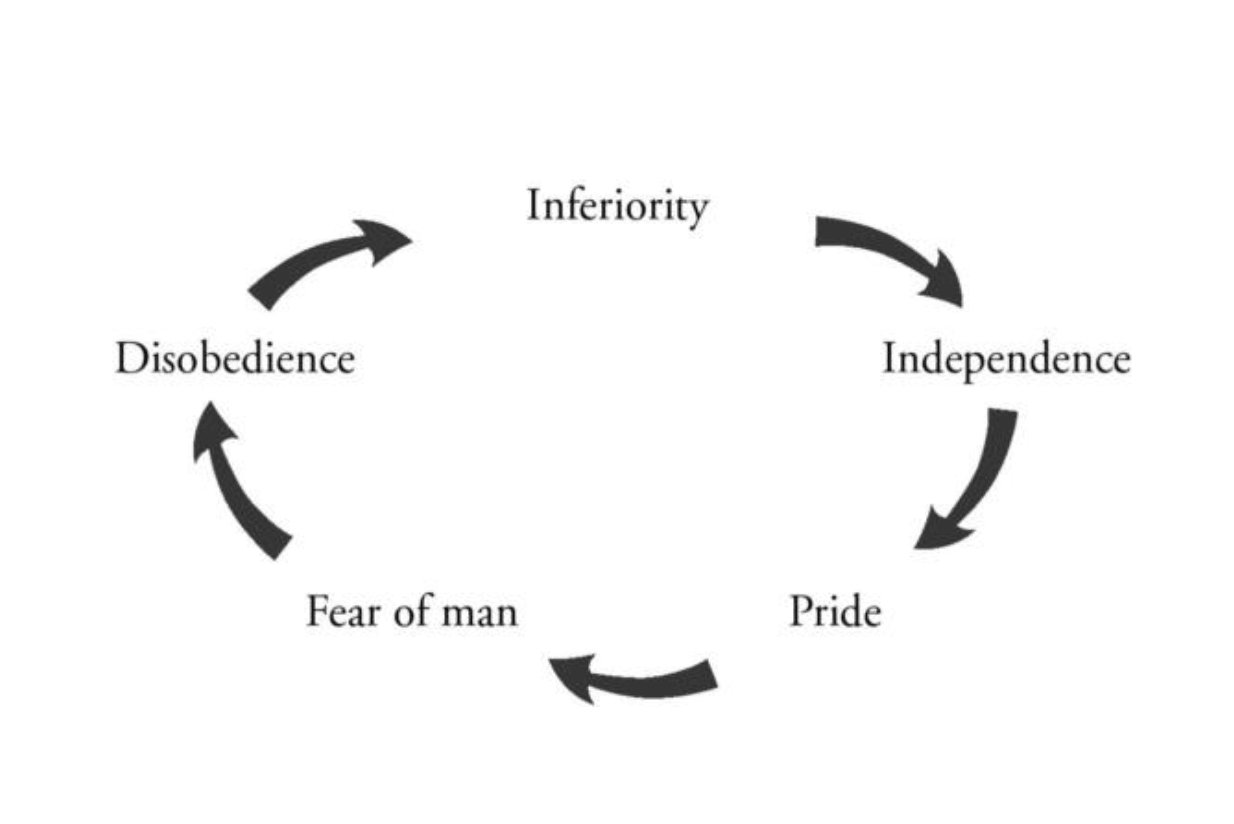 One problem leads to another. If we do not deal with our emotional hurts in God's way, they will lead us to independence from God, which in turn produces pride. Pride is much more concerned about what people think of us than what God thinks of us, which results in the fear of man. The fear of man inevitably leads to disobedience. We may still do a lot for God, but we are practicing ticing a religion of dead works.
Emotional injury makes us extremely susceptible to this vicious syndrome, and no one is immune from it.
Saul Syndrome explained:
•Withdrawal or isolation. The Saul Syndrome leads us to cut ourselves off from other people. Withdrawal can be a way of covering up or justifying our refusal to forgive those who have hurt us or compromise with those with whom we disagree.
•Possessiveness. The mentality of "my ministry," "my group," "my opinion," "my job," or "my place in the church" is selfish and stems from an attitude of independence. dence. The Bible teaches that rebellion is as the sin of divination; it comes from hell (1 Samuel 15:23). This "me-first attitude" is sin.
•"Us-versus-them" mentality. When we are caught up in the Saul Syndrome we start thinking in terms of "us" and "them"-those with whom we agree versus those with whom we disagree. This thought pattern signals we are not just disagreeing but are judging other people and creating ating factions in the church.
•Manipulation. Proud and independent people can be manipulative by refusing to cooperate, demanding their own way, criticizing, or constantly judging what others are doing. We spiritualize our reasons, of course, and that is why our manipulation can be all the more dangerous.
•Unteachableness. The Saul Syndrome causes us to be closed to other people. We refuse to accept correction and instruction. We become very hardened.
•Critical and judgmental attitude. We justify this in many ways, but it all boils down to slander and judging the motives of others.
•Impatience. We think our way is better, and we refuse to wait for others who don't agree or understand.
•Distrust. The Saul Syndrome results in distrust. We accuse others of not trusting us, but that is often a projection jection of our own mistrust. It reflects our independence and has more to do with our needs than the needs of others.
•Disloyalty. This involves playing on the doubts, wounds, or needs of other people to win them over to our own point of view-rather than seeking to build unity, love, forgiveness, and reconciliation.
•Ingratitude. We focus on what we think should be done for us instead of how much has already been done for us.
• Unhealthy idealism. We idolize a method, standard, or program and put it above people-particularly people with whom we disagree. Ideals become more important than unity or correct attitudes.
Floyd McClung. The Father Heart of God (Kindle Locations 271-273). Kindle Edition.
God Wants you to enjoy lifE!
Even though the Saul Syndrome is often a symptom of hurt and unresolved feelings of rejection, it is still selfish and wrong and must be dealt with ruthlessly.
There is no problem of independence and inferiority that cannot be solved through greater humility and brokenness in our lives.
The Bible promises that as we humble ourselves, God will give us grace (James 4:6-7). We are afraid of "humiliation," but that is not what the Bible means when it says to humble ourselves. selves. True humility involves the willingness to be known for who we really are and to take God's side against our own sin.
Floyd McClung. The Father Heart of God (Kindle Locations 304-306). Kindle Edition.
Final thought
If you are caught up in the Saul Syndrome, may I suggest that you will never be free from it until you accept your responsibility to repent of these wrong attitudes.
The Saul Syndrome can be broken. You can be free, but there is a price to pay. If you want to experience inner healing and to know the Father's love, then you must choose the fear of the Lord.
Proverbs 14:26 says, "In the fear of the LORD one has strong confidence." fidence." It is humility and the fear of the Lord that bring us close to the Father heart of God and lead us into wholeness and self-worth.
Reflection:
1.) Do you find yourself often trying to "impress God"? Why do you feel the need to impress God? Is there a better way?
2.) Do you often make the Gospel more about you? What is The Gospel? What happens when we focus on who God is instead?
3.) What is true humility and How do we achieve humility?